#Bigidea2019
My weekly blog is crossposted on LinkedIn. I assume that's why I found a request in my inbox the other day, which I've excerpted here:
Heading into 2019, we couldn't be more excited to look ahead to the Big Ideas that will shape your industry and workplace. We talked to business leaders about what they're watching, including everything from a potential economic slowdown to the rise of remote work. You can check out our collection of the 50 Big Ideas for the year ahead. Now, we want to know your predictions. What topics, ideas and conversations do you think will define 2019? Weigh in — and see what others are saying — using #BigIdeas2019.
I was prepared to trash the email. I don't normally make new years resolutions because I've learned that I never keep them (though I am getting more regular exercise these days). I've also never been very good a making predictions and have gotten almost everything wrong at least since Donald Trump announced his presidential candidacy in 2015.
But that same day, I got my latest installment of books from @nextbigideaclub which convinced me to weigh in. Not to make a prediction, but to make a wish that we take to heart the title (and all the ideas) of one the books in my box, Steven Johnson, Farsighted.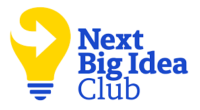 Before I do that, a plug for @nextbigideaclub. It's an initiative started by Adam Grant, Susan Cain, Malcolm Gladwell, and Daniel Pink who are four of my favorite authors who do terrific jobs of transforming key scientific discoveries into terms that non=specialists can understand and–more importantly–use.  There is no better or obvious example than Gladwell's presentation of key findings about sudden accelerating change in complex adaptive systems in his first best-seller, The Tipping Point.It exists because its founders realized that our country and the planet as a whole face serious problems that can't be solved using business as usual. We need plenty of next big ideas. And they have taken time out of their already busy lives to curate lists of books that will get serious leaders (who are also presumably thought leaders in their own communities) to begin thinking about a bunch of those next big ideas. The eight books they pick each year along with the list of runners up which they now publish are a great service to people like me who are always looking for new ideas from other fields to bring into their ow
Every four months, they send members two books that, well, talk about what might be the next big idea. And, at least in the membership plan Gretchen and I have, copies of the books also go to high school students in underserved communities.
The most recent box included Johnson's book, which I had already read and reviewed elsewhere. A friend of mine had turned me onto his work a few years ago because of his interest in innovation, evolution, new ideas, and more. I've briefly reviewed Johnson's book elsewhere, but it's worth our while thinking about its broader implications.
In other words, how does the @nextbigideaclub help me answer LinkedIn's request of #BigIdeas2019?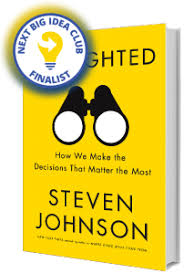 The list of predictions I've seen for 2019 in my inbox this week have a few common themes. Expect more of the same. Expect problems to continue. Expect things to get worse. As an American, that means more gotcha politics, more gridlock, more yelling and screaming, more economic problems…. and less cooperative problem solving on the countries facing our country and our planet. The government shutdown we are currently in is an apt symbol of what we are facing. It's not likely to get much better.
But what if thought systematically about what the future might hold?
Johnson would have us consider as many alternatives as possible, play out likely scenarios for all of them, expect the unexpected, and consider the "nth order" effects of what we do. His ideas are even more important as we head into what some of us call a VUCA (Volatile, Uncertain, Complex, and Ambiguous) world in the long term impacts of our decisions will matter even more and it will be ever harder to be, well, far-sighted.
Bringing together diverse teams to consider multiple scenarios has another benefit that Johnson doesn't quite get to. Not only does it help bring multiple options to light (which he certainly does discuss) but the mere act of doing so can both defuse tensions and help that team identify and work toward commonly agreed upon solutions. That, too, is particularly important in a VUCA world because finding solutions for its problems increasingly requires thinking of them as superordinate goals that can only be met when all stakeholders work on them together.
That's not what we do. Whether you're focusing on the stalemate that has shut down the US government, the Brexit debate, the quagmires in Iraq, Syria, or Afghanistan, or just about any other issue in the news today, we could use some of his far-sighted thinking which can really only be done by people tackling their problems together.
So, my New Year's wish for a @bigidea2019 is that we become more far-sighted.
Alas, it is not my prediction.
The views and opinions expressed in this article are those of the author and do not necessarily reflect the official policy or position of the Alliance for Peacebuilding or its members. 
---
Also published on Medium.