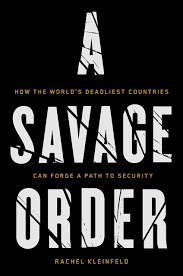 A Savage Order
I met Rachel Kleinfeld at a conference on technology and peacebuilding a couple of years ago and learned immediately that she is a force of nature whose youth belies her wisdom and impact. When we met, she was already working on this book, so I've been waiting for it and dug into it the day it was published. I wasn't disappointed.
It is bound to have a huge impact on the way we peacebuilders conceive of our work in at least two ways.
First, Kleinfeld would have us redefine the way we think about our goals. Most of us were drawn to this work because of our concerns about war and the toll it takes. That's all well and good. However, Kleinfeld suggests more forcefully than anyone else whose work I've read that the real problems we face today lie elsewhere—in the more complicated patterns of violence that have their origins within individual countries and may then spill across national borders. Add to that the fact that she thinks that there is a syndrome of problems at the heart of her analysis—how the use of what she calls privilege violence becomes a pattern of governing that decivilizes countries in ways that makes its middle classes and moderates complicit in the problem.
Second and perhaps more importantly for those of us who work in this field, she makes a compelling but unsettling set of arguments about what does work. Many of her points make a lot of sense and aren't hard to accept. For example, she stresses the importance of what Robert Putnam calls bridging social capital and expanding the phase space or the range of outcomes people find acceptable.
Some of her proposals are more worrisome because they fly against some of the more idealistic orthodoxies we peacebuilders at least explicitly accept. In particular, she evocatively talks about "dirty deals" in which potential reformers form what democratization theorists call pacts with at least some of their adversaries and then use those alliances to chip away at the corruption and other problems that face their community.
Last but by no means least, Kleinfeld makes here case by focusing on a number of cases ranging from the American south after the civil war, Sicily, Colombia, and the state of Bihar in India. She does so with grace and wit that one rarely finds in political prose.
I finished this book the night before the Alliance for Peacebuilding's semi-annual Board of Directors meeting and started talking about it with colleagues who had worked with Kleinfeld during her years at the State Department or the Truman Institute. Then, our board chair gave a copy to every member of our board and assigned them to read the book asap.
You should, too.