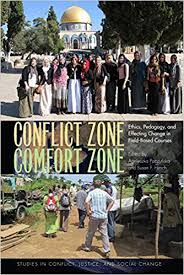 Conflict Zone, Comfort Zone
As the title suggests, Conflict Zone, Comfort Zone focuses on how we prepare students (and by implication, others) to work in conflict zones which requires them to get out of their comfort zones. As the authors in this wonderful anthology point out, that's easier said that done.
Nearly ten year ago, this book's editors, Susan Hirsch and Agnieszka Paczynska won FIPSE grant to improve experiential education in peace and conflict studies. Now, they, their former students, and others have pulled that experience together in this remarkable book that is based on the assumption that field-based courses have to be an integral part of any young professional's education in the field. They get well deserved credit for realizing that experiential education was vital to our field and that there are all sorts of problems associated with it.
The first and most important of those problems involve ethics in a whole host of ways. I'm particularly drawn to one of the questions their authors raise–making certain that student learner live up to our equivalent of the Hippocratic oath and do no harm. You know that students (and experienced peacebuilders) will make mistakes. But, how do you avoid making ones that have consequences for the people you are there to help?
Second are a set of pedagogical issues that revolve around helping students develop what psychologist call perspective taking skills. Having taken student groups myself to the Soviet Union in the early 1980s and France shortly after the Socialist government was elected in 1981, I know that even the most well meaning students do not always have great empathetic skills. What the chapters in this volume drive home is that a) you can't do that completely in a conventional classroom and b) best practices depend on the personality and skills of both the instructor and his o9r her students.
Finally, they raise a series of issues that revolve around the impact of our work on the student learners as well as on the conflicts themselves, When I work with young people as staff members or interns, mentees, or students, I want them to grow as people from having been exposed to difficult situation. Again, Paczynska and Hirch's authors convinced me that there is no single way of doing that, but it is an important task. Similarly, our field is different from most social sciences in that we know that our mere presence has an impact on the conflicts we take the students to observe. This is something we all learned initially from the writing of Kurt Lewin and now is at the heart of most of what my colleagues who train conflict resolution specialists do.
This is book is not designed for a general audience. However, any peacebiulding educator should dash out and buy a copy. Not only will you learn about these issues, but you will also learn a lot about intriguing initiatives in places as different as suburban Washington, West Virginia, Pittsburgh, Colombia, India, Northern Ireland, Liberia, and beyond.