Project Description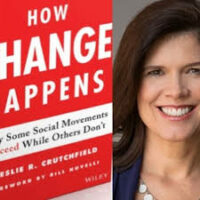 How Change Happens
Leslie Crutchfield leads a team at Georgetown's McDonough School of Business that has spent years examining why some social movements reach their goals. Unlike many analysts, she studies a wide range of groups, including many whose goals she disagrees with, most notably the NRA. Most of them, too, were not the kinds of radical movements seeking to dramatically alter the structure of power as was the case in the organizations studied by the likes of Charles Tilly, who shaped a lot of my thinking on the subject when I was in graduate school and in the first few decades of my career.
Groups that succeeded were able to do some version of the following:
Build powerful grassroots networks that they could capitalize on. These were not uniform local organizations but diverse networks of activists who found ways of working together on an ongoing basis and grooming state and local leaders for the organization who take charge in defining what it will be about.
All had a dual focus, which she calls changing hearts and policy. Most of the movements I've thought about analytically have emphasized their national and/or public policy goals. In fact, the most successful ones I've been part of put changing norms and cultural values at least as high on their list of priorities.
Created strategies that vary from state to state or locality to locality. All allowed those organizations to work towards "quick wins" that would both maintain local momentum and that could be combined into more focused efforts at the national level.
All found ways to work with she calls "adversarial allies," or other organizations that work in the same space but have very different goals and strategies.
All find a way to break away from business as usual, whether in terms of cultural norms or in getting policy makers to consider alternatives that they hadn't previously been open to.
All understood that in today's networked, systems-based world, social movements have to be networked, relational, transparent, and bottom-up in focus if they are going to succeed at the national level.
All understand, too, that there is no single roadmap to success.
This is a remarkable book that everyone interested in social movements should read.