Project Description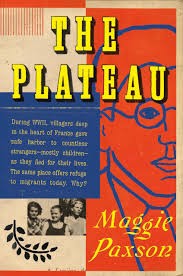 The Plateau
No review can do The Plateau justice.
I bought it because I work both on French politics and peacebuilding. I knew a little bit about André Trocmé and what happened at Chambon during the war. So, I bought the book thinking it might provide some insights into what I think of as "bright spots" or examples of things that work even under the most gruesome of circumstances.
I wasn't prepared, however, for what is truly a tour de force.
She starts by exploring what happened at Le Chambon-sur-Lignon by focusing on her distant relative, Daniel Trocmé who is not as well known to history as his older cousin perhaps because Daniel died at Mejdanek.
That would have been enough for a wonderful book, but Paxson goes on in two more ways.
First, it turns out that the same region is home to hundreds of asylum seekers today. And, some of the families that took in refugees in the 1940s are doing so again today. And, because Paxson herself speaks fluent Russian, she ended up translating and befriending plenty of people who came to Chambon from Chechnya, Armenia, an Azerbaijan.
Second, Paxson weaves her own story—and her own growth—into the book, which is not something we social scientists routinely do (but, I think, is terrific). What are her responsibilities as an anthropologist? As a citizen of the planet? As a human? How does studying the plateau then or now change you, the observer.
It's rare that a book by a social scientist makes a reader cry in despair and soar with hope. So, go read it.