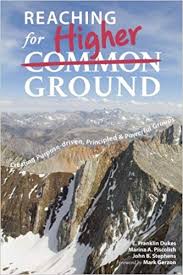 Reaching for Higher Ground
Reaching for Higher Ground has been on my list of books to get to since it first came out more than a decade ago. I finally got around to it after an Oberlin student I work with mentioned that it had been included in the required readings for some training she was doing in conflict resolution.
I'm glad I did.
In some ways, we have moved beyond what Dukes,  Piscolish, and Stephens talk about in these pages. Our work today tends to be more holistic and anchored in systems theory than it was when they first wrote. However, they remind us of a number of things we probably don't pay enough attention these days, including;
The importance of our different conflict styles. We try to help people be more collaborative in dealing with the disputes, but this book reminds us that few of us start out with that kind of a commitment or have much experience thinking and acting that way. They help get us there.
They spend more time on ground rules than on anything else in this book. However, they do not do so in a conventional way in which a facilitator imposes them on a group. Rather, the authors see the very process of agreeing on how to proceed as a key step toward reaching agreement on the substance of the issue.
They lay out six keys to success in any negotiation whether it's in a family or in a country or in the planet as a whole which I think of in terms of a few questions. How do we create a sense that the parties to a dispute face a common obstacle that they can only solve together? How do we help them envision shared outcomes they all desire? How do we educate and inspire the people we work with? How do we keep revising our work so that we get better?
Experienced mediators and group leaders may not learn much from reaching this book. They will, however, see things they  have worked on for years from a new perspective. That, along, is worth the few hours it takes to think about reaching higher ground.