Rondine Cittadella della Pace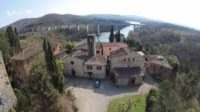 I  had planned to write about ideas peacebuilders could draw from the business world until I spoke at (and mostly listened) a workshop organized by the Rondine Cittadella della Pace. I was blown away and decided to put off dealing with the business world until next week.
The staff along with a number of current and former students came to the United States and Canada to launch their Leaders for Peace. The idea is simple. Rondine is asking the 193 UN member states to redirect part of their defense spending toward training young leaders for peace, the way it has for the last twenty years.
The Rondine Citadel (or better oasis) of Peace is located on a hillside near Arezzo in the Tuscany region of Italy. In 1977, the village of Rondine was abandoned and falling apart, when the Bishop of Arezzo named two families to restore it and turn it into a refuge for needy families. In 1995, it welcomed five Chechens and Russians who had been through the first war there. In 1997, the Cittadella del Pace was formed, and since then, the tiny (and beautiful) hamlet has become one of the world's leading centers for reconciliation.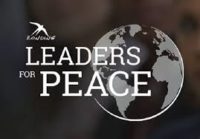 Its main program lasts two years and brings together about 20 men and women in their twenties who have experienced violent identity-based conflict. Over the years, students have come from the Caucuses, the Balkans, the Middle East, and parts of Africa. During their two years in Rondine, they go through a program of academic study (many also receive a master's degree). More importantly, they work with trained professionals—including psychotherpaists—who help them deal with the trauma they have been through and to build relationships with "the other" in the form of their fellow students. The students are then expected to return "home" and apply what they have learned personally and academically in helping their countries move toward reconciliation. From what we could tell, the 200 or so Rondine alumni have already made a significant difference in places as different as Sierra Leone and Serbia.
It has also added a program for Italian students who spend their next to last year of high school in a service learning program in the village. It has plans to open other programs, including a business school.
The conference I attended was amazing. In addition to some presentations on the program, we heard papers by other peacebuilders, many of whom had ties to Italy and/or the Catholic Church. I shared my panel with two rabbis (one of whom is Italian) and the former U.S. Ambassador to the Vatican, Miguel Díaz.
My remarks stressed four things that made me sit up and take notice:
Like only a handful of other programs like those run by the Arbinger Institute, Rondine addresses the whole person.
It devotes the longest period of time I'm aware of to the work of trauma healing.
It relies heavily on professional mental health workers.
It is not based on American cultural norms of what reconciliation or trauma healing should entail.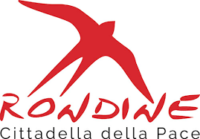 That said, I did have some questions which I expect to pursue with my new-found friends. Can this work be done more cheaply or more quickly? Can it be taken to scale so that more than 20 students a year can participate? How can we apply what the staff and students at Rondine have learned to countries like my own?
Still, it is an amazing place with an amazing story to tell that does mesh nicely with some of the things I've been reading about recently and incorporating into my own work. Three examples should make that point.
Amy Edmondson of Harvard Business School, has brought many of her concerns about creating an atmosphere of psychological safety in the work place in her new book, The Fearless Organization, which I will get to next week.
Claire Cain Miller has written a brilliant series of articles on how to be more empathetic in the New York Times which I will explore in two weeks after I sit in on a webinar she is teaching.
Lilliana Mason explores how divided we Americans have become on identity rather than issues lines in her new book, Uncivil Agreement.
In short, I learned a lot and met some wonderful people from that village that was rescued from oblivion. You could, too.
The views and opinions expressed in this article are those of the author and do not necessarily reflect the official policy or position of the Alliance for Peacebuilding or its members. 
---
Also published on Medium.