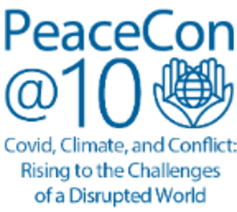 PeaceCon@10:
Connecting the Dots
The Alliance for Peacebuilding (AfP) and the United States Institute of Peace held its tenth PeaceCon at the end of January which was attended by more than a thousand people from more than a hundred countries.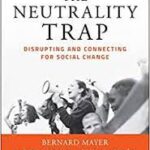 Although it serves the entire global peacebuilding field, PeaceCon@10 did a lot to help me deepen my understanding of what the Connecting  the Dots Community could and should do here in the United States.
Fortuitously, while PeaceCon was happening, I read the new book by Bernie Mayer and Jackie Font-Guzman, The Neutrality Trap, which I've reviewed elsewhere which also sharpened my thinking about what peacebuilders and others need to do to bring about sweeping change here in the United States.
Remarkable by Accident
Since many of my readers will have heard of PeaceCon let alone attended one,  I should start  with a brief introduction to the event.
PeaceCon has become the highlight of the peacebuilding year, although it is still a far cry from events like Comic-Con or SXSW. It also has far more modest origins.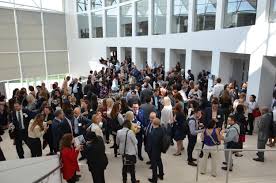 The Alliance for Peacebuilding was created in the early 2000s so that the then handful of American based peacebuilding NGOs that worked abroad could find ways of cooperating with each other. By the time I joined its board in 2005, AfP had grown to about twenty member organizations and began holding more or less annual retreats to which they each sent one or two delegates. We held them, frankly, wherever we could find a venue that gave us a good rate and that was not located too far from the eastern seaboard where most of our members had their home offices.
One year, we held the retreat in Annapolis MD, in part because our then CEO lived there. And, because it was close to Washington, we included a day there as well in which we met with Capitol Hill staffers and other policy makers.
For reasons that I don't fully recall, we then decided to hold the whole thing in Washington the next year. We also reached out to the United States Institute of Peace which agreed to host the first day as a free event open to the general public; we would then spend two more days in sessions reserved for our members and others who were willing to pay a modest fee and attend what amounted to a series of plenary sessions and workshops. By that time, we were doing so much policy advocacy work that we started holding separate sessions on that front at other times during the year.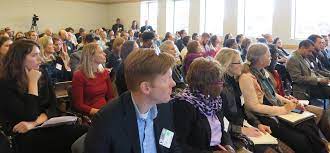 By 2019, we had settled on PeaceCon as a name for what had become an annual event. On the first day, we would fill USIP to the rafters and then host 300 or so others for the second two days at a conference center which, coincidentally, was owned by one of our larger member organizations. Without ever having consciously decided to do so, we had created an annual event that had sponsors and at least broke even.
Then came COVID.
We had to pivot because we could not hold a conventional PeaceCon in 2020. With the help of Humanity United and other sponsors, we figured out how to put the conference on virtually. To our surprise, the number of attendees shot up to well over 1,000 because no one had to pay to come to Washington or worry about getting an American visa. And, people could pick and choose which sessions to attend.
When 2021 began, we had hoped to do at least part of PeaceCon as a face-to-face event. The spread of the Delta and then Omicron variants of the COVID virus made that impossible. We initially planned to hold a second virtual version of PeaceCon that November, but President Biden's Democracy Summit forced us to move the event to January which prompted us to decide to hold it in the spring from now on. It's possible we could hold it in a city other than Washington. However, given USIP's role and the time and energy that AfP's small staff has to give to putting it on, the odds of its moving from Washington are not high, at least for the foreseeable future.
I was not wildly in favor of either holding the first PeaceCon or turning it into an annual event. They really do take a toll on our staff, and I don't particularly enjoy attending talks and workshops that cover topics I already know a lot about. And, of course, I'd attended way too many, way too boring academic conferences over the years, and too many PeaceCon sessions reminded me of them..
My doubts are long gone, however. They are amazing events. Intellectually rich. Challenging ideas. Even when COVID forced us to hold PeaceCon on line for the second time, I was able to meet a handful of young people I want to work with more.
PeaceCon@10
This year's conference was far from perfect. The online platform we used, for example, made navigating from one session to the next a snap. However, it did not lend itself well to hosting workshops which is what I had hoped to do at the section I organized. In that case, because I couldn't see the people in the "audience" as you can in a Zoom session and because it wasn't easy for attendees to raise their hands and get onto the virtual stage, my workshop ended up being little more than short presentations followed by a question and answer session.
Still, it was a resounding success in more ways than I could hope to cover in a single blog post. So, let me focus on the four sessions that I could use in building the Connecting the Dots Community which I'm in the process of creating.
My session. For the second year in a row, I organized a workshop that could help my colleagues see the need to make what I've called a peacebuilding pivot in earlier posts. Instead of focusing primarily on projects that put peace on center stage, events so far in this decade have convinced me of the need to focus on race, climate, gender, and the other issues that have been in the headlines. Rather than having peacebuilders on the stage with me, I invited Zebras Unite, Re-Volv, Stranger's Guide, and Symphonic Strategies to make brief presentations on what they are doing on their own and as part of the Connecting the Dots Community. I had hoped that we could then break into smaller groups to discuss how attendees could apply what they heard to their own work. Unfortunately, the technology kept that from happening. Still, we came up some ideas and identified a couple of people who seem willing to help us take the project farther.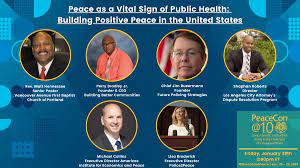 Police2Peace.  Police2Peace is one of the groups I've been working with in starting the Connecting the Dots Community. It is the brainchild of Lisa Broderick who spent the first thirty years of her career as a corporate executive. In the late 2010s, she made a pivot of her own and realized that police reform had to be near the top of any list of social change priorities in the United States today and could/should be seen as a public health issue. She started with the simple idea of returning to the notion of police officers as peace officers and holding them accountable for being so. In the last three years,  Police2Peace has been working with police departments around the country and focusing on ways that they and their officers can avoid the kind of systematic racism and violence that characterized so much of their activity long before the murder of George Floyd. At PeaceCon, Lisa brought together a local African-American activist who has been working with the police force in Columbia SC, the black lawyer who leads the mediation office that includes the Los Angeles Police Department, and the pastor of the largest predominantly black church in Portland OR who is leading that city's peace initiative that grew out of dialogues between police officers and community members and has expanded to include other issues, including economic empowerment.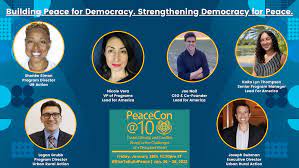 Uniting for Democracy. Two of my favorite organizations announced this new partnership. I'd followed Urban-Rural Action since its founder Joe Bubman came up with the idea a few years ago. Lead for America only reached my radar screen after I met one of its first group of fellows and a George Mason graduate with whom I worked became part of this year's cohort. In this joint venture, the two organizations will combine their separate strengths to create a single initiative that will identify and train a new generation of leaders in six states which are mostly off the beaten track when it comes to this kind of initiative—Minnesota, Kentucky, New Mexico, Wyoming, Nebraska, and Kansas. The two organizations will spend the next year identifying small teams of leaders who will find ways "together to build relationships, strengthen collaboration skills, explore different views on democracy, and work together to improve civic health in their communities." Over the course of the next year, those teams will plan and begin implementing locally based projects that can make a difference long after the project ends in mid-2023. If you live in one of those six states and are interested, the application deadline is at the end of this month.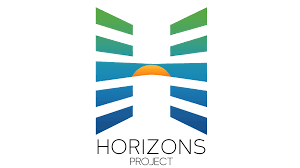 The Horizons Project. Last but by no means least, my friend and AfP board chair Julia Roig formally launched the Horizons Projects which is far more advanced than mine and which will receive a lot of my attention as it gains steam. I met Julia early on in her fifteen-year run as President and CEO of Partners Global which also happens to be AfP's landlord. She stepped down from Paterns to create the Horizons Project that reflects her long-time interest in "changing the narrative" when it comes to peacebuilding and related fields. Based on the works its founders have done overseas as organizers, conveners, facilitators, and members of nonviolent resistance movements, the Horizon Project will apply the lessons they've learned to America's divisions, especially over foreign policy issues. In partnership with the Frameworks Institute, the Horizons team has identified ways in which it hopes to shift the stories we tell ourselves and each other about peace—away from thinking of it as the absence of war but as a positive state that we have to actively work toward. At her PeaceCon presentation, Roig and her colleagues kept coming back to the metaphor of building and crossing bridges, both of which take time and effort. Unlike what I am hoping to do with the Creating the Dots Community, Horizons will focus primarily on  t thorough leaders and influencers as they come to realize that they cannot remain isolated in their particular silos.
 

Next Steps

PeaceCon justly deserves its reputation as a venue where cool new ideas get launched. This year's version was no exception, since there were plenty of other examples I didn't have room to go into here. Still, these four initiatives alone together help me see my own agenda for the year to come until the next PeaceCon. I plan to continue my own initiative, but I also have to work together with my friends who have their own "things" going. But I also have to expand on the implications of an idea I already had come up with for the Connecting the Dots Community. It will only work (whatever that means) if its success also leads to success and growth for its member organizations. In fact, the same holds for all of us. I have to do what I can to make the initiatives I just wrote about work, too.

That's a daunting challenge.

At the same time, these are fun people to get to work with.

The views and opinions expressed in this article are those of the author and do not necessarily reflect the official policy or position of the Alliance for Peacebuilding or its members. 
---
Also published on Medium.