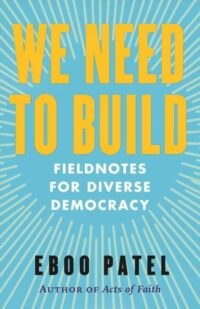 We Need to Build
Eboo Patel and his stunningly effective interfaith organizing work have been on my radar screen for a number of years. It was only when I read We Need to Build and his discussion of how the Interfaith Youth Core has been transformed into Interfaith America that I saw just how important his work could be for those of who don't put faith-related issues on center stage.
Early on (location 102 of the Kindle edition), he makes a powerful point.
Once you have deposed people who use power for unjust ends, do you know how to take some of that power and build something better?
All too often, activists do not have a good answer to that question. We all want to build something better, but few of us have taken the time to think through what it will take to actually "build" or create that alternative. As the global history of revolutions has shown, we've suffered as a result of not having done that homework far too often in far too many parts of the world.
This is not the place to review all of the twists and turns in Patel's journey. However, he ends up making the case that we need to build in two overlapping ways:
Adopting new cultural norms about core principles that yield new commonly understood stories that connect us
Creating new institutions that work which he calls field building and which allows those new norms to spark action and endure
In defining his own work, that meant:
My work has been characterized more by an outstretched hand rather than a raised fist.
His focus is limited to interfaith values and structures, but, in fact, his argument applies to all of us who work for large scale social change in the 2020s. Still, the second half of the book draws on examples from other fields and leads toward the title he gives to Chapter 10—Be Guided by a vision For, not an Anger Against.
Although my work does not focus on interfaith issues, per se, this is one of the most helpful books I've read in years.s