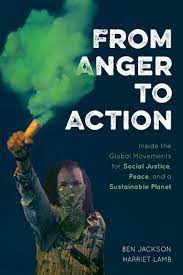 From Anger to Action
I love in when I get to read a book by someone I know and like and then learning a lot to boot.
I first met Harriet Lamb when she was head of International Alert before she headed back into the broader social and economic justice community, which is what this book is mostly about.
along with her longtime colleague, Ben Jackson, Lamb documents the ways people in a variety of issue areas ranging from peacebuilding to climate change to the pandemic turned their (often) frustrating anger into activism that can make a difference on a policy level. As they put it on p. 18,
even if we want to shut out global issues, they are going to come walking, swimming, or–as the coronavirus did–exploding into our lives.
Indeed, the book chronicles many of the ways Jackson, Lamb, and their colleagues have turned their own anger into action on a host of issues and in a host of places, although they give more space to their native United Kingdom than anywhere else. Therein lies the book's strength. There are very few movements that have been in the news during the last twenty years that escape their attention, including some that escaped my attention.
My own activism is a little less edgy than theirs. Nonetheless, their key point about the importance of civil society makes all the sense in the world because, in their terms, civil society organizations help us believe, battle, and build. There can be little doubt, too, that civil society organizations have pushed the needle and gotten us to the point that it is hard for our leaders to avoid discussing and doing something about all of these issues.
While it's true that I would have put more emphasis on the "building" and less on the "battling" side of things than they do, this is a book that everyone interested in social justice and nonviolence social change has to read.