Project Description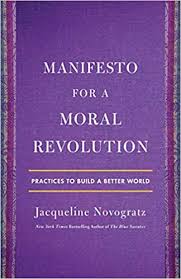 Manifesto for a Moral Revolution
There is a quiet revolution going on in business circles which my friend in peacebuilding circles are not paying enough attention to. New ways of thinking about finance are among the business practices undergoing reconsideration. No one has done more to revolutionize the way we fund and empower businesses in underserved communities for everyone's benefit than Jacqueline Novogratz who founded Acumen just about 20 years ago and has spent that time investing in promising companies that counter poverty and other social problems around the world, including, now, in the United States.
Novogratz. goes beyond Acumen's track record in her new book, Manifesto for a Moral Revolution and lists a series of principles she has learned and embodied over the years. I won't cover all of the twelve principles she discusses given the space that would take. Rather, I hope the following will whet your appetite to read this wonderful book.
Our actions as investors–or anything else–has to be anchored in moral purposes that benefit as many people as possible.
There are ways of doing that which can lead to businesses that succeed in building a profitable bottom line and help solve chronic global problems.
It all revolves around building relationships of trust and accountability through the business's life cycle, from its funding to its daily operations
It all takes a long time with lots of experimentation, fits and starts, and road bumps along the way.
Start by acting in ways that will get you one step closer to your ultimate goal and build from there.
Listen to and respond to real needs of the people you choose to serve.
You have to live the values you hope to spread.
Respect the people you work with, especially those who disagree with you
Novogratz is also a master story teller as she makes clear in her many public talks as well as her writing.
In other words, this book was fun to read as well as an inspiration.