Vanishing Frontiers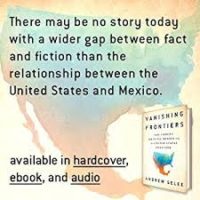 We didn't need Donald Trump to have serious misconceptions about Mexico. I've been trying to overcome them—including my own—since I first included it in my comparative politics textbook 25 years ago. So, I take any possible occasion to learn more stereotype busting facts about Mexico, including when dealing with its 2018 election, which itself was stereotype busting.
Luckily, I stumbled on Andrew Selee's Vanishing Frontiers, which is the best book I've read on any single country in ages. As a baseball fan, I began being delighted on p. 1, because he starts with what legendary and very quirky manager Joe Maddon has done to ease tensions in his home town, Hazleton PA which Selee described as "ground zero for protesters against immigration."
In the pages that follow, stereotype after stereotype falls. I didn't find some of them to be all that important because they involve media celebrities or Mexican food (I'm allergic to beans so my options are limited). However, he does explode a lot of the ones that are important to today's political debate, which I am very definitely interested in. And, he does so in a way that combines statistical evidence with imagination grabbing stories that include the owner of Maddon's favorite Mexican restaurant in Hazleton.
Selee makes the case that we are no longer what Alan Riding called "distant neighbors" a generation ago, but have become "intimate strangers" today. That we are so close but so ill-informed about Mexico does not augur well for our relations with the new Andrés Manel Lopéz Obrador (AMLO) government.
Here are the most important of the stereotypes he demolishes:
There aren't many Mexican migrants moving to the United States today. There are fewer incentives for them to move to the U.S., but as the bulk of the book suggests, there is less need for them to migrate given the opportunities that now exist at home.
Mexicans have started hundreds of businesses and invested in many existing ones, including the last remaining nail manufacturing plant and the companies that own Thomas's English Muffins. These companies certainly employ lots of American workers in our heartland. Their numbers almost certainly dwarf that of Americans who have seen their jobs move south of the border.
In fact, many goods (e.g., automobiles) are made in both countries with parts and other components frequently making several trips across the border before their final assembly. Or as he puts it on p. 89, "US companies invest in Mexico not at the expense of American workers but to the advantage of workers in both countries." The interconnections are almost too numerous to mention, but the one that struck me the most was that Americans spend more on tortillas than on white sandwich bread.
Mexico itself is an increasingly prosperous country with a massive middle class, an entrepreneurial spirit, and its own Silicon Valley. The Mexican boom may have started in basic manufacturing, but it now includes a tech sector that rivals that of India and that produces innovations that spark productivity increases around the world.
Much of that new middle class includes Mexicans who studied in the United States or otherwise lived here for a number of years. Even when the entrepreneurs have not themselves been immigrants, the money their immigrant relatives sent back home provided a lot of the capital necessary to create those businesses and create the new middle class, including the owner of Maddon's favorite Mexican restaurant in Hazelton.
Mexicans understand a few things far better than we do, including the fact that our energy futures are inextricably intertwined and that Mexico's related problems of drugs and gang violence stem in large part from heroin and opiate use north of the border. Like many other problems, neither of these pressing issues can be solved by either county acting alone or by imposing its will upon the other.
The "new" Mexico they are creating has a lot to do with the growing frustration with the establishment, corruption, and crime that led to AMLO's landslide victory.
It is hard to see how the Trump administration can undo what Selee calls the "living bridges" that are being built between our two countries, that range from those businesses to the blending of our popular cultures to a physical bridge that connects San Diego and the Tijuana international airport.
Click edit button to change this text.