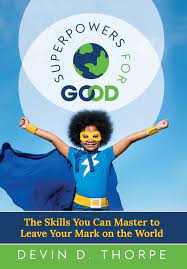 Superpowers for Good
How could I not read a book with this cover and this title?
As soon as I opened it, I realized that it wasn't my kind of book.
But I loved it anyway.
I should explain.
Devin Thorpe is a former high end business executive who now does what his book's title implies. He tries to identify and promote personal strengths–which he dubs superpowers–that promote progressive social change.
In the book, he identifies a lot of those powers, few of which will strike you as unusual, including altruism, curiosity, leadership, networking, honesty, passion, and more.
The book itself consists of excerpts from 60 of the more than 1,200 interviews and podcasts he has done over the years. In the last 400 of them, he starts by asking the interviewees to identify his they superpower and describe how  they use it. Some of them are household names like Bill Gates or Nick Kristoff. Most are people I'd never heard of.
It's not my kind of book because after a short introduction, the book consists simply of summaries of and excepts from his interviews with next to no analysis.
Still, I couldn't put it down. The stories were all inspiring.
One example should be enough. Shaun Paul made the book because he is great at listening and turning what he hears into what Thorpe calls "bridging vision to action."  Paul helps people in a Mexican community replant pine trees who sap can be used for resin, which is a $10 billion global industry. Not only does he help the farmers he works with, he is making a transferrable and reproducible solution for climate change.
The book is filled with examples.
It was great holiday reading for me. It is worth reading whether you on vacation or not.