The Art of the Long View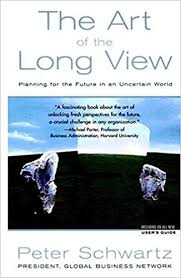 I rarely review old(ish) books, but I made an exception in the case of Peter Schwartz's The Art of the Long View. I did so because I am finding his ideas about scenario planning helpful as I write a core textbook for conflict resolution and peacebuilding.
I first encountered Peter Schwartz and scenario planning in 2000 when a friend invited me to an off-the-record discussion about long-term security threats facing the United States. While that discussion is still off-the-record, I was so blown away by Peter's use of scenario planning that I immediately went out and read the book. It confirmed everything I had sensed at the workshop. On rereading it almost 20 years later, it confirms the conclusion I reached then.
Scenario planning is a tool we peacebuilders should embrace.
Like appreciative inquiry and a few other tools, scenario planning does not start out with a problem we need to solve, which is what we peacebuilders often do. When and if that happens, we tend to get stuck in intellectual ruts and have a hard time thinking outside the clichéd box.
That's where the beauty of scenario planning comes in.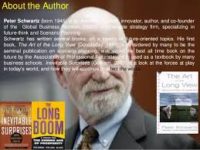 It starts by creating a set of plausible scenarios of how the future could evolve over an extended period of time, which the facilitating team usually prepares them in advance. They start with the key long term trends that are not likely to change much if at all during the lifetime of the exercise. Today, that would include such drivers as ongoing technological change, the aging of the baby boomer generation, globalization, and the like. Then, they develop anywhere between three and ten general ways in which the situation could easily evolve. At that point, they bring their clients in and have them explore how they would react if each of those scenarios were to unfold.
The goal is not to predict the future. No one can do that. Instead, scenario planning allows people to consider a series of "what … if" situations and helps them plan accordingly.
In the process, it helps them expand the number of options they have to choose from and makes them more creative.
Scenario planning has not been used all that much in peacebuilding contexts, although it has enjoyed considerable success in both Colombia and South Africa. It also was the vehicle that got at least some senior officials in the Pentagon to take climate change seriously.
Schwartz's book was originally published in the early 1990s. It is still worth reading both because it is the best available depiction of scenario planning and because it helps us see where Schwartz and his colleagues got things wrong–as well as right–a generation ago.