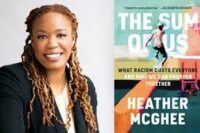 The Sum of Us
Even though she is still quite young, Heather McGhee has been a thought leader on issues at the intersection of race, public policy, and democracy for many years. The Sum of Us is her long-awaited book on the subject which, of course, could not have come out at a better time given the events since the murder of George Floyd last year.
Her thesis transcends those intersections. As she sees it, our overarching problem lies with the "zero sum paradigm" that suggests that for the situation of Blacks (and other underprivileged minorities) to improve, the conditions of White people must deteriorate. Racism hurts us all–including the racists. Instead, she combs American history and contemporary reality to find examples of a "solidarity dividend" in which everyone benefits from certain kinds of win/win policy changes.
The book is also a social science tour de force. Mc Ghee is a master story teller who combines her observations on the ground with the best social science research.
For anyone interested in constructive alternatives to the status quo in the United States, there is no more refreshing place to start than The Sum of Us.