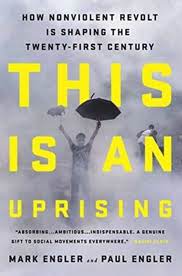 This is an Uprising
I'm a bit surprised–and embarrassed–that it took me four years to discover Mark and Paul Engler's wonderful book, This is an Uprising.
Written just before Donald Trump's election, this well-written overview of the history and strategy of what Charles Tilly and Sidney Tarrow called contentious politics stands the test of time.
Better than anyone else whose books I've reads over the years, the Engler brothers trace the ways nonviolent protest has evolved from the days of Mohandas Gandhi in India through the civil rights movement in the United States and into the 2010s. It give pride of place to the thinking of Gene Sharp whose work influenced not only protest leaders in the United States but those in many of the "colored" revolutions that swept Europe, the Middle East, and Asia earlier in this decade.
They make an important distinction between organizers who focus on building movements and those who want to create lasting institutions and then how those distinctions tend to blur in concrete actions.
More importantly, the focus on the role that nonviolent or civil resistance has played in provoking social change over the years.
Even more importantly yet, they acknowledge that civil resistance can topple authoritarian leaders, it is not as effective when it comes to determining what happens after they fall. That, of course, is the role that we peacebuilders hope to play and one we should not ask activists inspired by Gandhi, Dr. King, or Sharp to answer, too.
This is also a book that spans my political life time which led me to think fondly about our successes and regret our failures. Younger readers will benefit from exploring a history that shows where the movements of the 2010s come from and the lessons we should be drawing in a new era in which Trump himself may be gone, but the influence of his ideas linger on in much of the world.