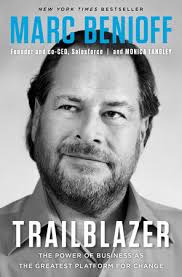 Trailblazer
Marc Beanioff is the founder and co-CEO of Salesforce, the Fortune 500 company that dominates the CRM (customer relationship management) software business. in short, he is one of the richest people in the world. At the same time,  he is one of the most prominent business leaders working for progressive social change. He is best known for making the case that business leaders have to lead efforts for social change not only for ethical reasons but because it makes good business sense, too. As he puts it on p.6 of Trailblazers.
Doing well by doing good is no longer just a competitive advantage. It is becoming a business imperative.
Benioff is not a typical Silicon Valley entrepreneur, although he has lived his whole life in the San Francisco area other than his college years. He has always had a strong commitment to social justice and environmental causes and built them in to Salesforce from the beginning. To be sure, he has been a tech pioneer, in his case developing internet (now cloud) based tools earlier than any other major company and then quickly transitioning to the world of mobile computing.
What makes his story worth learning about for peacebuilders is the ethical base on which he and his colleagues built the company. Indeed, they start with values that now include a commitment to equality, transparency, trust, and accountability to all of the company's stakeholders.  Once it became clear that the company would make money, Benioff committed to what he calls a 1-1-1 Model in which one percent of the company's equity, revenue, and working time would be plowed back into the community through the company, its non-profit www.salesforce.org, and other vehicles. Benioff and his colleagues did not come close to getting everything right. However, when they didn't live up to their own expectations on LGBTQ issues, the climate, and racism, they listened to their stakeholders and changed.
In the end, Benioff has become an activist CEO and delights in it.
The book is a delight to read, especially during these dark times of pandemic and political polarization.