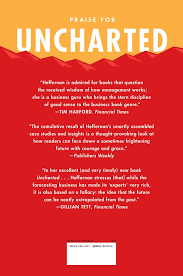 Uncharted
I have enjoyed Margaret Heffernan's work for years. Her career as BBC journalist, entrepreneur, and business school professor leave her uniquely qualified to write about silo-crossing topics at a time when we sorely need ideas that break disciplinary boundaries.
Uncharted does just that while focusing on the fact that it is impossible to predict the future despite the fact that we have learned so much more about our past and present, especially at times like ours when almost everything seems up for grabs. She doesn't think predicting or thinking about the future is a waste of time. Far from it.
However, she does suggest that there are ways of understanding underlying dynamics that may go a long way toward shaping the future, adopting the ones we most want to see evolve, and experimenting with ways of making them happen. And, she takes the reader through some wonderful stories about citizen polling and deliberation, scenario planning, and being prepared for the unexpected in ways that lead to both resilience and robustness.
The British version of this book came out just before the pandemic began; Heffernan was able to squeeze a few ideas about it into the American edition. One would, of course, have wanted more, but it is a great book to read during the current crisis because it both tells us that we can't predict the next one with any degree of certainty but helps us develop the tools that will let us respond to the next one better.