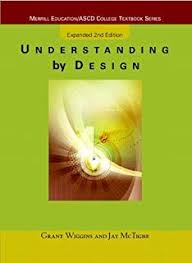 I normally only review new books, which Understanding by Design is not. In fact, it only came to my attention because I was talking about teaching with Brian Alegant of Oberlin's Conservatory of Music while I was on campus for my 50th reunion a few months ago.
Brian helped me see that the kind of design thinking I had picked up from companies like IDEO and Pixar weren't always applicable to college teaching because we rarely invent a new product like the iPhone or the first fully digital feature film.
What the late Graham Wiggins and Jay McTighe do in this wonderful book is to apply design principles to teaching existing courses or at least new courses that are part of an existing curriculum.
Although their audience is primarily K-12 teachers, their three key lessons are critical for college teachers as well:
Before you do anything else, define the key, transferable concepts you want your students to master
Define the skills that they will have to be able to demonstrate in order to show mastery of that material
Then and only then does it make sense to develop lesson plans and assessment tools
This is an amazing book. I only wish I had found it before I stopped teaching courses of my own.