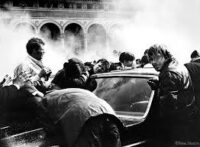 This week's blog post covers plans and expectations for my fiftieth college reunion this weekend at Oberlin College. Next week, I'll talk about what actually happened.
Like me, many of us "majored" in ending the war in Vietnam. However, we will not be trying to recapture the politics of those turbulent times. Instead, we will try to figure out what we can contribute to creating a more just and peaceful world in the time we have left.
Frankly, I've been amazed at how little time we've spend talking about what happened "back then" each time that we have gotten together.  Instead, whether at reunions or in smaller groups of Obies I both work and hang out with, we talk–and sometimes argue–about what to do next.
Ours will not be a typical reunion. No golf tournament, for example. Instead, we will have a weekend jam packed with things that Oberlin is famous for and which shaped our lives–liberal politics and classical music.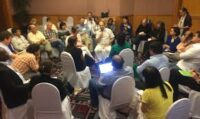 Here's what we will be doing:
After a set of receptions on Friday, we will get down to work (yes, we do take our reunions seriously) Saturday morning when I lead a Samoan Circle. In a single ninety minute session, we hope to have as many classmates as possible talk (very briefly) about aging and what's going on in the US and the world today.
Then, we will head immediately into a session on the future of progressive activism.
We will share a book of advice with seniors graduating this year.
There will be a choral sing of Brahms' Requiem (not your standard reunion fare).
As we have for the last twenty five years, we will have separate men's and women's breakfast for alums and their partners. These are often the most interesting and rewarding sessions of the entire weekend.
We used to have faculty members who taught us speak to our banquet. Those who are still alive, of course, are now all retired. We'll see some of them at a reception, but has asked a college and conservatory professor to talk to us about the uncertain future facing all liberal arts colleges.
I'm particularly delighted that my first political science methods instructor in 1966, Ken Sherrill, is coming to our reunion even though he only spent to years at Oberlin. That's how much of an impact we had on him, especially on the way he taught for the rest of his career.
There will be a Moth-like story telling hour and 

a talent show

At commencement just before we leave town, one of our classmates, Robert Krulwich, of RadioLab will receive an honorary degree.
And, we'll also have time to spend with each other and, yes, do some reminiscing.
Still, the reunion is only worth writing about for people who have no interest whatsoever in being there is that something always happens at them to change my life. Oberlin made me what I am today both politically and professionally back in the day before my hair color got challenged. It still happens today. I'm privileged to work with a group of Obies of my generation, and I met most of my closest friends back then.
The views and opinions expressed in this article are those of the author and do not necessarily reflect the official policy or position of the Alliance for Peacebuilding or its members.